Galleries
Sheet Metal Ductwork
All of our fittings are computer-designed and custom built to meet the specific needs of your home or business. Our state-of-the-art sheet metal shop produces the most cost-effective and reliable metal fittings on Nantucket.
Eel Point Project
We thought that it would be interesting for people to see things from our perspective. Rather than a "Before and After" gallery like those annoying makeover shows, we decided to display a step-by-step gallery that shows that you can get "There" from "Here".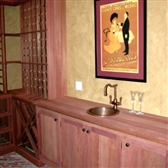 Wine Rooms
The wine cellar equipment and state-of-the-art control systems that we install are interwoven with each homeowner's custom wine cellar decor.